Joined project between Colombian and American students, projected on the façade of the Tippecanoe Arts Federation Building in West Lafayette, Indiana in the event First Friday May edition 2021.
This projection was the first Light Festival in West Lafayette that transformed the Tippecanoe Arts Federation building into a city of light art. The light production on this landmark created a platform in which national and international artist, transformed architecture into one big shining stage.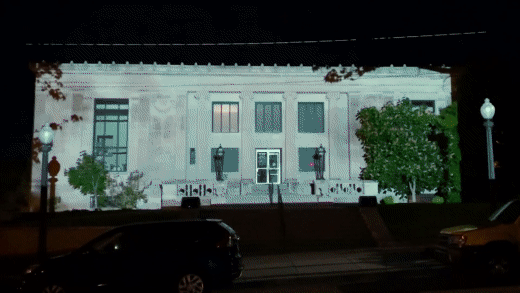 The theme of this animation was to showcase the similarities between Colombian and American history. This was done by using projection mapping, by this, we were able to use the art and science of using projectors to augment the surface of 3D objects with precisely fit video in ways that beautifully defy reality and take the viewer beyond their physical space.
Credits:
Illustrations and animations by Andrea Yañez
3D Animations by Juan Carlos Hernandez
Stop Motion by Henry Heffron and Isabelle Turner
Sound Design by Corbin Stanchfield
Motion Graphics by Damaris David
Camera by Jackson Murray
Supervised by Andy Buchanan and Esteban Garcia
Special thanks to Tippecanoe Arts Federation and Purdue University for their cooperation on the project.